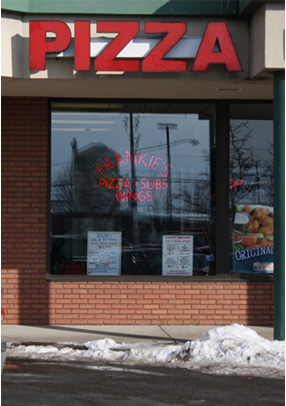 How did Frankie's Pizza and Subs come to be?
It all started with a twelve year old boy…
Frankie has been making pizzas since he was twelve years old and worked for several years in family pizzerias. It was his dream to open his own pizzeria and the time finally proved right.   With the help of many family members, Frankie's Pizza and Subs opened their doors to business in November 2002.
Through the guidance of many family and friends, Frankie's Pizza and Subs has become a Lockport favorite.  Frankie takes pride in the products that he uses and only selects top quality meats and ingredients.    Outstanding customer service is also a priority at Frankie's Pizza and Subs!  Every customer should walk out of Frankie's feeling like they had a positive experience.  Please know that when your order is made, much thought and effort has gone into preparing it.  Frankie wants every customer to enjoy their food!
What does the future hold for Frankie's Pizza and Subs?  We hope that we can continue to serve our customers of Lockport and the surrounding areas with fresh, delicious food and over the top customer service!
If you have a comment or just want to tell us how much you love our food, Send us an email frank@frankiespizzaandsubs.com